Beautiful Polymer Clay Owl Necklaces by Purpura Allergica on Etsy: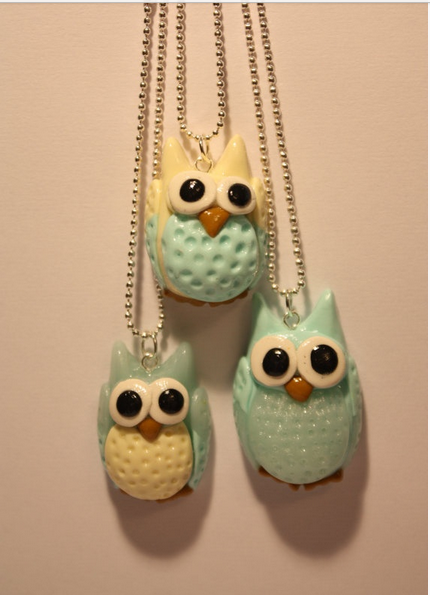 I love these necklaces by Purpura Allergica.  I saw them posted on someone's board on Pinterest, but when I clicked on them they went to Etsy and said they were no longer available.  But they didn't say who made them.
The original post to Pinterest gave the name Purpura Allergica.  Maybe someone who knows the artist can post who it is.  I would love to see his/her other work.
Simplicity is My Favorite:
I absolutely love simple things that pack a great big designer punch and these necklaces are a perfect example.  They are so simple in their design, but at the same time, they work because of the scale, the texture and the combination of colors.  They are adorable with only a splash of whimsical.  This is a delicate formula.
Sometimes things/objects are a little too cute.  Others are so whimsical, they crash over into "just plain weird".  But this art necklace is perfect, in my humble opinion.  They are adorable without being too cute and they are just whimsical enough.
Beautiful design.  I only wish I could find some of the artists other work.