Xenia Emelyanov makes wonderful polymer clay jewelry. She generously shares her instructions with her followers. Here is a DIY instruction on how to make the following beautiful owl pendant: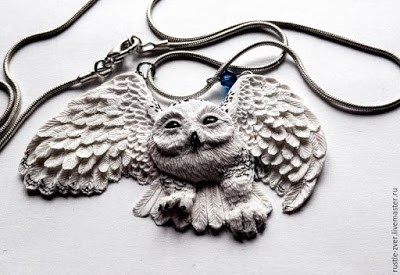 This is another polymer clay pendant that is not for the brand new polymer clay jewelry artist because Artist Xenia sculpted this owl from start to finish.  It is not made with push molds or clay shapers.  But for the intermediate polymer clay artists, this is a great sculpted pendant project to try.
Xenia sketches out a general owl shape with a needle tool on a pad of white polymer clay.  She positions the eyes that appear to be made already (or she is using something else that I can't recognize)  This is to make sure the eyes will ultimately be in scale when she is done with the sculpture.
She cuts out the general shape and then adds a layer on top to give the first level of dimension.
Next Artist Xenia buries the hanging wires at the top of the wings using a small pad of clay.  Next she adds the third layer of clay to build up the head area and the wing outlines.
I like this tutorial because it gives you the idea and the techniques used on sculpting bas relief, which is the illusion of depth using only tiny bits of space.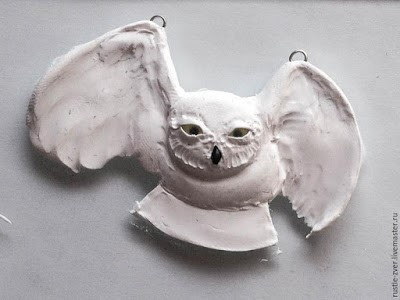 Here she buries he eyes and begins to add more dimension to the wings.  The "feather" effect begins on the face, and she adds a tiny black beak.  She is laying out the areas and the direction that her "feathers" will ultimately take.  You can see she is thinking ahead and laying out the ground work for the next step.
Next Xenia begins to add some glitter effect with either beads or tiny black polymer clay stones around the pendant and she sculpts the body shape and the owl's legs and talons.
Next she lays in the tiny feathers.  You can see from the picture above that each feather has lines of demarcation into it.  It is always this tiny — but time consuming — details that give the final art pendant that really professional and masterful look.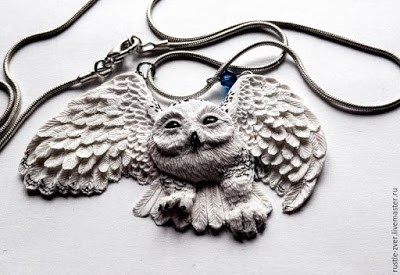 Look again at the final polymer clay art pendant and see how much detail Xenia sculpted into such a small piece.  Notice how much dimension she created with just 5 layers of bas relief (base clay/feathers, feet/talons, body, face/eyes, eyebrows).
I have some links below to see some of Artist Xenia's other works, which you can see from this screen capture: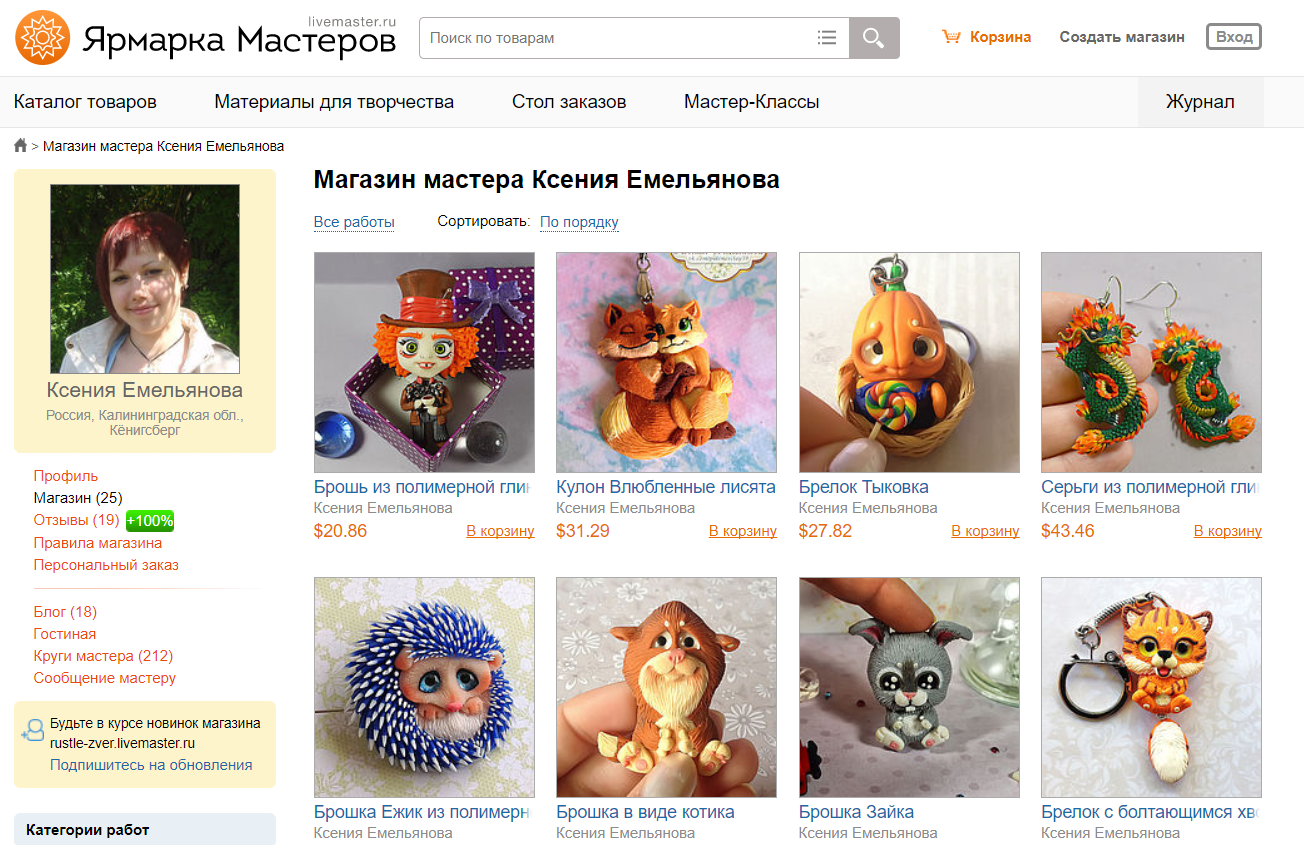 Магазин мастера Ксения Емельянова's Shop
Her YouTube Channel:  Happy Ksu & Polymer Clay & Полимерная глина