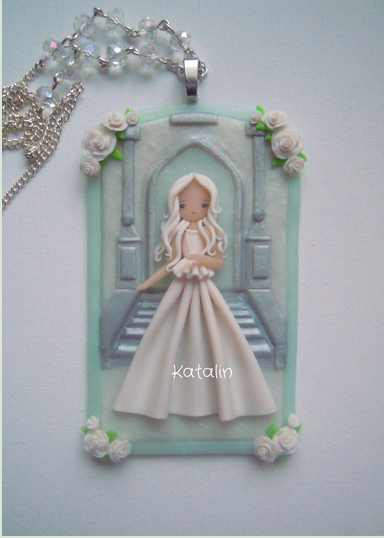 Found this beauty on google during a search.  Based on the size of the hanging bale, this appears to be enlarged so you can see the details.  This art pendant by Katalin is amazing.
This appears to be build on a clay backing and it is built up in layers.  The back wall, doorway and staircase are built and scaled to give the pendant a 3D dimensional look.  Let your eyes take in all of the details that Artist Katalin put into the background and how much time and meticulous placement this background entailed.
Next, the doll itself is wonderful.  Seems simple but if you look closely, the folds are exactly even on both sides — no easy task.  The hair is done with simple coils of clay but the placement and amount of curls is perfectly in scale with the rest of the piece.
The roses are beautiful and the scale is perfect.  Even at this tiny size, the petals are still all detailed and placement is perfect.
I cannot tell whether the pendant is coated in resin, but I would coat in resin to protect and strengthen the hair coils and the roses.
This piece of jewelry to me is more of an art piece than wearable art.  This would look stunning in a small frame with a textured background.
If you have any art pendants that you would like to share, please post below!