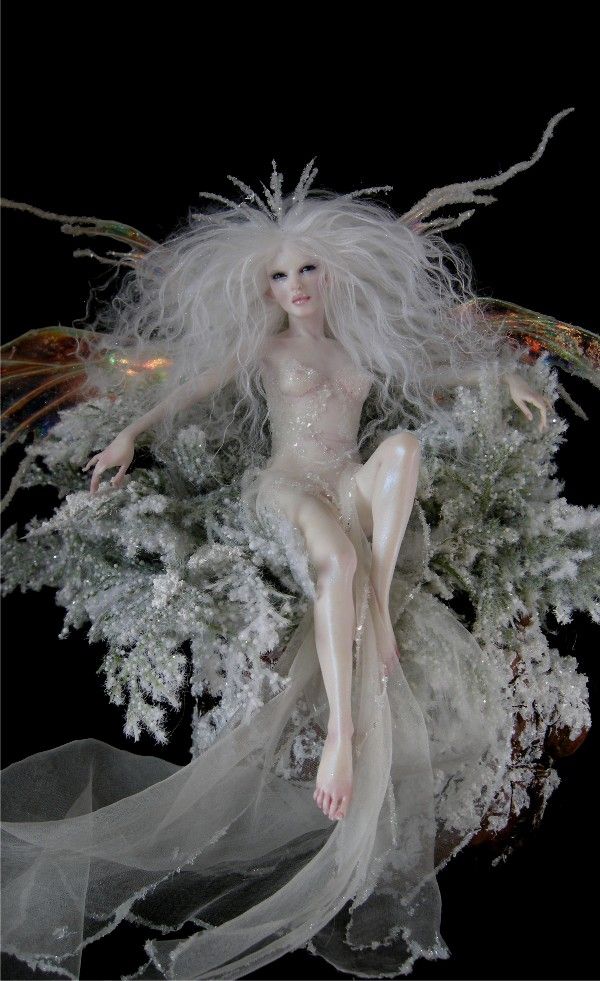 Above is the "Frost Queen" that I saw on Deviant Art.  The doll is perfectly sculpted, perfectly posed and perfectly painted.  Look at the details on the toes, and in particular, see how the artist blushes between the toes and between the fingers.
The artist adds glitter along the tulle-like dress that starts out being glued to the doll's body and then cascades into a pose of its own at the bottom of  the piece.
The doll's face is painted with the subtlest of paints, and the eyes are done in a subtle darkness to give her a very dramatic look.  The lips are perfect; they look pouty and yet not "lipsticked".  Beautiful.  Masterful.
I also love the glitter headpiece, that looks pretty simple, perfectly scaled, but I can't tell how the artist did it.  In any event, it looks fantastic.  The hair is perfectly applied and each curl is individual and perfectly scaled.  This appears to be natural lamb or angora.