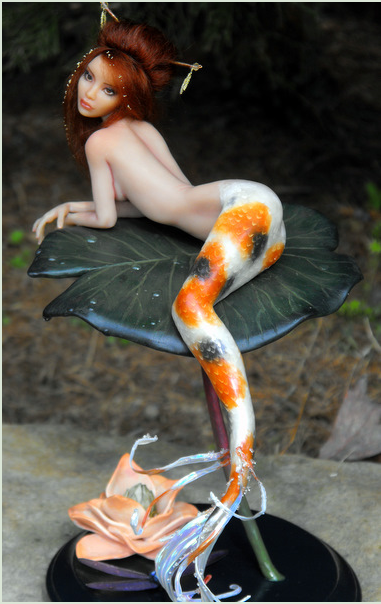 Look at this gorgeous Koi Mermaid  This is another masterpiece I have found on the Deviantart website.  This one is by someone code-named Moonglue.
This is so beautiful and clever at the same time.  If you look firstly at the lilly pad stand that the Koi Mermaid is leaning on, I am assuming the artist made this out of polymer clay and it is subtle enough to not compete with the mermaid herself, and yet, if you look closely, it is very detailed with the veining and shape and subtle texture.
On the base is another matching flower that gently balances the sculpture and compliments the koi coloring that the artis has, I believe, Painted onto the tail section of the mermaid.
Her skin is beautifully shaded and blushed and the scale is perfect.  I cannot tell how she made the "fringy" tail, but it looks perfect with the rest of the sculpture.
I especially love the way her hands and back are posed.  Such gracefulness.
Her face is beautiful too.  Wonderful sculpture by Moonglue.