FILL IN THE FLESH:
Once the doll has been fully baked at 250 degrees, the waist is very thin.  Add pads of clay building up the torso to a more believable width.  I will be adding a clay costume, so I can build it up more than normal.
If you will be adding material of any kind, you might want to keep the waist pretty thin to make up for the bulk of the fabric.
If this will be your final baking, be sure to bake according to the manufacturer's instructions.  Also remember to go over the entire doll carefully and be sure to fill in any cracks or indentations with fresh clay so you will be finished with the doll after this baking.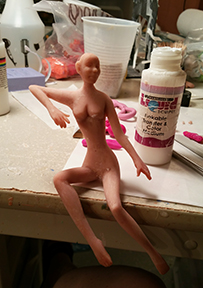 If you will still need to scrape and sand, then hold off using the higher temperature until you are ready to do a final baking.
FINAL SANDING:
Once you have done the final baking, wait until the doll is completely cool and then do a final sanding.  Just to repeat, start at 60 grit, then 100 grit and dry 220 or 320 sandpaper.  Then move to the sink or a bowl of water with a drop of dish detergent in it.  Then use wet-dry sandpaper beginning at 220/320, then 400 and finally 600 grit.  This will give you a really fine porcelain-like finish.