CREATING THE CLAY COSTUME:
For this project, I am creating a clay under costume, and the tulle skirt on top.  So once your doll is completely baked, Roll out very thin pancakes of a colored sculpey III clay and create a bathing-suit like costume.  I added a little ruffle on the front of the bodice section, along with two buttons.
If you have any problems making the clay stick, simply smooth on some Liquid Sculpey and it will stick like a charm.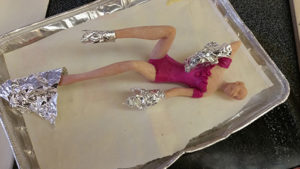 Once the costume is done, put the doll back into the over and do a full bake again.  It might be a good idea to cover the tiny parts like the hands and feet with aluminum foil to protect them from scorching.
Once the costume is done, it will be time to paint the doll.
PAINTING THE DOLL:
I am not going to go into detail on how to paint the doll.  It is covered ad nauseam in all of my courses.  But you will paint the face and blush the body using acrylic paints and blending gel.
COVER THE DOLL IN RESIN: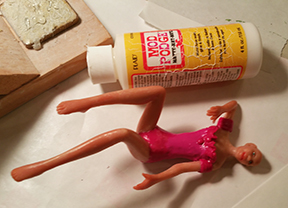 Once the doll has been painted and dried, follow the same procedure you did in the stage lesson and coat the doll with resin.  Be sure to check for any "drips".  You will need to do one side first; allow to dry over night.  Then do the bottom side; allow to dry overnight.
By coating the doll in resin, this will also give the doll more stability and prevent the fingers and toes from breaking, which is one of the only downsides of working in polymer clay.
The doll will finish with a high shine.  It will be too shiny for dolls, so you can dull it down by painting a layer of Matt ModPodge over the doll.  If you want to doll it down even more, wipe on a layer of Johnson's Paste Wax.  This will give it a "sheen" but not a "shine".  This most closely mimics the porcelain look.