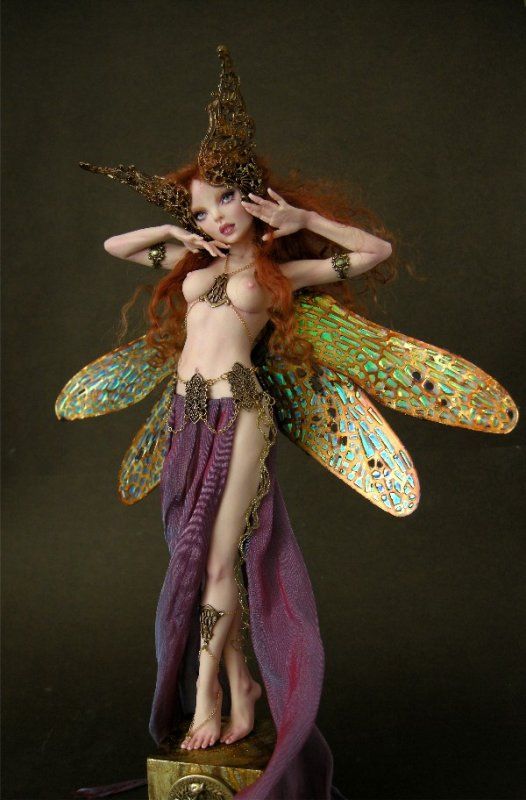 Dragonfly Faerie by Artist Nicole West:
The Above OOAK Art Doll is Dragonfly Faerie By Artist Nicole West Dolls.  As many of you know, Nicole West is a very famous Art Doll Maker and you can see by the above doll that she is a master sculptor and master artist.
You can see by look at her whole body that Nichole is a master sculptor.  Look at the emotion portrayed by her hand and arm poses.  Look too at her feet and in particular, her toes.  Her breasts are perfect, as is her waist and legs.  Because the doll's scale is perfect, I cannot tell how large or small the sculpture is.
Her crown, breast piece, arm pieces waist piece, leg pieces and foot jewelry appear to be made from jewelry findings.  They coordinate perfectly and again, are perfectly scaled.  I assume Nicole knew the look of her whole piece before she even began to sculpt.  The reason I say this is look at how perfectly the breast piece fits between her breasts and look how perfectly the arm pieces are scaled to her arms.  I don't believe all of the pieces were an afterthought.  This is an example of how important it is to know ahead of time how you want your dolls to look and be dressed before you even begin to sculpt.
The hair, wings and skirt are also perfectly scaled and are all in a very pleasing color scheme.  Even the purple skirt is "gold-toned" in order to match the brass jewelry findings.   Her stage is also "gold tone".  It all works perfectly.  This is the work of a true master.
OOAK Fairy by Nenufar Blanco:
The above OOAK Fairy is  by Nenúfar Blanco.
She is a OOAK fairy sleeping in a spider web.  The doll sculpture is perfectly scaled.  She has a simple by believable hair piece.  I cannot tell what her wings are made out of, but they match the webbing in color and texture perfectly.
Her crossed-leg pose is very believable.  Her eyes are closed and the eye-color or shading on the eyes is just enough to emphasize them and not look like eye shadow.
I don't know how Artist Blanco made the spider web or whether it was a purchased item, but it is a very original "stage" for the fairy.  I can see this fairy in a large house plant or part of a holiday store window scene.
She also has a larger acorn next to her, showing how tiny the fairy is.  It's really a very beautiful piece.
Not ready to start sculpting your own dolls? Try Push Molds for Polymer Clay to help you learn as you create beautiful dolls in polymer clay.