In this tutorial, I will demonstrate how to make the Ballerina Push Mold Doll using polymer clay, bamboo skewer, ballerina push mold and armature wire.  This will enable you to learn how to make a doll that stands up on one leg.
THE BALLERINA STAND: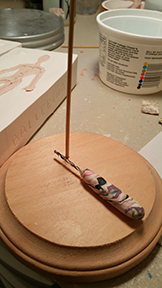 For this project, I am using a simple wooden plaque that can be purchased at any craft store.  I am also using a wooden bamboo skewer that can be purchased in a package at any local supermarket.
The tool pictured to the left is a drill bit that is the same size as the bamboo skewer, with a polymer clay handle I made out of "junk polymer clay".
Choose a side of the plaque and "drill" a hole for the bamboo skewer about one inch from one side.   If you use a drill bit that is exactly the same size, the skewer will fit into the hole and hold the doll very firmly.  If you use a drill bit that is slightly bigger, you will need to use glue to get the skewer to stand straight.
BALLERINA PUSH MOLD: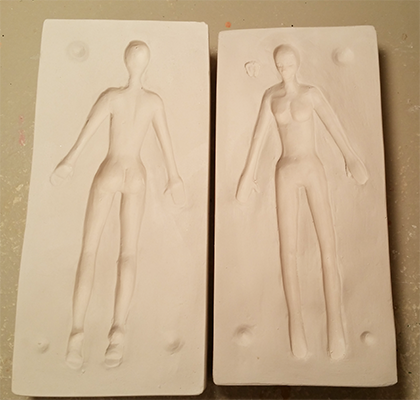 To the left is the ballerina push mold that we will be using for this project.
This can be purchased in the online store at www.whitegothic.com/shop/.
Blend Super Sculpey with Sculpey III in the color white to get a pretty complexion color.  Make sure you blend up enough to make the whole doll.
Spray the inside of the mold with water and this will act as a mold release. Here is a video on YouTube that teaches you how to fill a push mold here.