MAKING THE HAIR:
Once again, the hair I use is mohair yarn, pulled apart and tied into little bundles. They are then strategically glued on the head to create the doll's hair style.  This process is also covered in detail in the Sculpting Fairies in Polymer Clay DVD and also a slightly different version on the baby dolls in Making Baby Dolls in Polymer Clay.
Once you become proficient in making polymer clay dolls, you may want to switch to actual angora and goat hair.  You can find suppliers on the internet,  Most professional dolls use this type of hair.  It can be pricey for a beginner, but once you start producing collectible art dolls, you will want to start using the highest grade materials in making your dolls.
This doll, I used a blonde-colored wool and glued it into a bun type style.
MAKING THE BALLERINA SKIRT: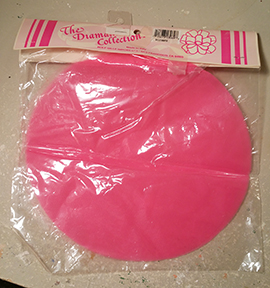 Using pink tulle circles that I found in a wedding aisle, I cut them into two smaller circles and gathered them into a two-layer tulle skirt.
I tied the skirts onto the doll and using a glue gun, flattened them down onto the doll.
I laid down a bead of glue on top of the skirt along the waistline, and then sprinkled and pressed tiny glass beads into it to give the skirt a little "costuming" an a little "glitter".  I did the same along the neckline, and then added two larger pearls.
At this point, the doll is done.
GALLERY OF THE FINISHED DOLL: