FINAL BAKING:
Once your doll is completely "half-baked" with all of it's parts, it will be time for a final baking.  This is the time you will bake the doll at the manufacturer's temperature and time recommendations.  I use Super Sculpey and Sculpey III, so I bake my dolls at 260 degrees (because my oven runs hot) and leave it in there for 30 to 40 minutes, depending upon the size of the doll.  It is best to follow your manufacturer's directions as they know all of the safety precautions and they have run many, many tests.
All the doll to fully cool, and go over the doll for any last minute scrapings or sandings.  Once it is sanded, wash with a little water with dish soap and dry completely.
PAINT THE FACE: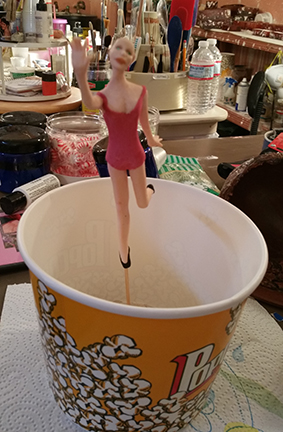 I've gone over the painting too many times to go over it again in this project.  I do also cover this in close up gory detail in my Sculpting Fairies in Polymer Clay Video and my Making Baby Fairies Video.
I use acrylic paints, tiny liner brushes and a blending gel to keep the paint smooth and give you an extra little working time in case you have to wipe off any uneven eye brows, etc.
Once you are finished painting the face, the body suite (if you need to cover any spots on the clay body suit), and the ballet slippers, it is time to coat the doll in resin.
COAT IN RESIN: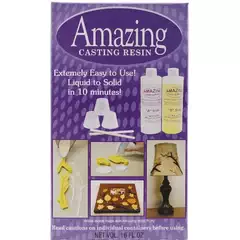 To the left is the resin I found that comes out without any yellow cast,  It is easy to use and lasts a while if you are making 7 inch dolls in polymer clay.
I put a big clump of clay in the center of the popcorn bucket so the doll was stable and then using a throw-away paintbrush (Dollar Store), I coated the doll in resin.  Off camera, I also coated the painted base.
They both needed to dry overnight.  Once they are dry, the doll is way too shiny.
So I paint one layer of ModPodge Matt finish and that takes away a lot of the shine, but then I coat it with a layer or two of Johnson Paste Wax.  This gives the doll a "porcelain shine".  It mimics the porcelain dolls the best.