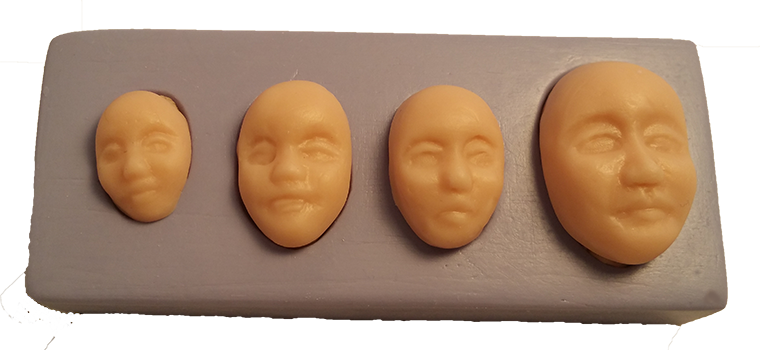 For the many beginner sculptors out there, here are three push molds that will help you more quickly "put a better face" on your art projects.
With all the details required in sculpting faces, they are the hardest part of the human body to master; the second hardest being the hands.  I have another push mold for the hands as well.
Here you can see that the features are sculpted into the doll, but with a small sculpting tool and an exacto knife, you can easily recreate original faces.  This will give you at least the scale of the faces, so you can resculpt the nose and know where it begins and ends.
These molds will also help you practice adding glass eyes.  Because the faces are only 1.5 inches tall, you can use white glass beads as a base for the eyes and then paint on your irises and pupils.  This allows you to always be in control of the resultant scale of the eyes.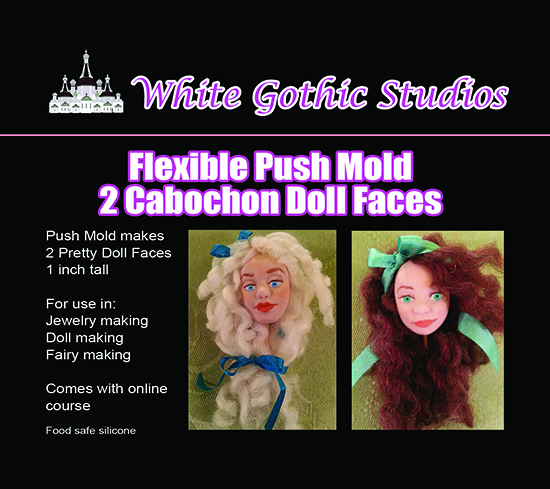 When you look at the dolls sculpted by today's master doll artists, what separates the good doll artists from the masters is the ability of the masters to perfect the scale of all things shown in the sculpture:  The eyes, curls, bows, crowns, hands, beads, fabric prints, etc. are all in scale.  When you see pictures of their work, it is impossible to determine whether the sculpture is 5 inches tall or 36 inch tall.  That's how you can tell the master works from the beginners.
Below is a video showing you how to use the silicone molds.  I think you will enjoy it!
And Below are some Pins from Pinterest that will give you some beautiful inspiration:
As you can see from above, the faces set the scene, but they are surrounded by the artists' creativity.  Each of the faces pendants are a work of art.  Look closely at how the artists use embellishments that are perfectly in scale to the faces.