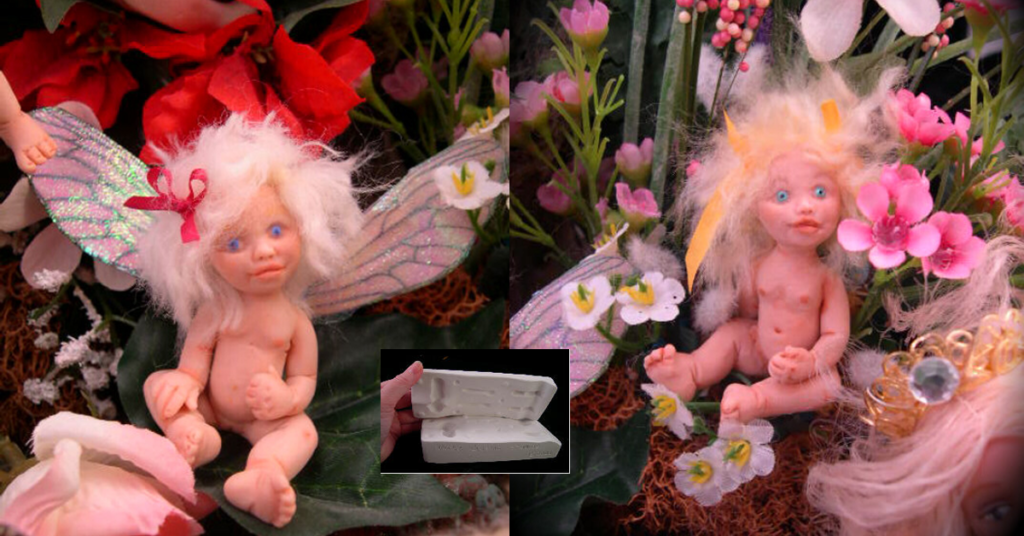 FOR BUDDING DOLL ARTISTS
If you are a budding doll artist whose interest has been captured by the masterful OOAK doll artist who show their work all over the internet, you too can learn to sculpt dolls.  Instead of starting with anatomy, and the boring technique of starting from the basics, jump right in and learn to sculpt using easy-too-use push mold and polymer clay.
You will learn how to manipulate the polymer clay, how to make the body parts and scale, all while creating beautiful baby fairies in the process.
FOR POLYMER CLAY ENTHUSIASTS:
If you have made about as much polymer clay jewelry as you can take, maybe it's time to try your hand at another art form, that being polymer clay one of a kind art dolls.  The easiest and fastest way to get up and running is to start with training wheels — I mean, push molds and polymer clay.
All of the doll molds sold at www.whitegothic.com/shop/ come with an online course that teaches you how to make the dolls in pieces.  This way, once you know how to connect the doll parts together, you can use the molds and literally make your own creations.
LEARN TO SCULPT WITH PUSH MOLDS FOR POLYMER CLAY
As state above, you will slowly learn about scale, which is one of the most important things about doll making.  As you look at the dolls shown on the internet by the master artists, one thing they all have in common is that they have mastered "scale" and everything on the doll is perfectly scaled.  By starting out with your own figure in polymer clay, you will get a jump on the learning process.
THE MOLD COMES WITH TWO EXTRA FACES:
The Baby Fairy Push Mold Doll Mold does come with two extra faces, one of which is a sleeping face.  Many of the dolls at White Gothic Studios comes with extra faces.  If you want to see a video on how to use the second faces, check out below.
THE KIT COMES WITH EVERYTHING YOU NEED:
The baby fairies can be made using polymer clay and mohair wool for hair.  I use a dental tool and an exacto knife to do the actual sculpting/creating of the doll.  And I have butterfly wings that can be printed out onto white shipping labels that give you the colorful butterfly and cicada wings for the baby fairy.
If you are the type that wants everything you need at hand, you may be interested in the Baby Fairy Beginners Kit.  This comes with the clay, push mold, two extra face molds, sculpting tools, bag of hair and a link to print out your fairy wings and the online course.
There is also a Baby Fairy Deluxe Beginners Kit that comes with the clay, push mold, two extra face molds, sculpting tools, cloth-covered armature wire, bag of hair, the online course, an online course to make fairy gardens and a 90 minute DVD showing you how to make the baby fairies step-by-step.