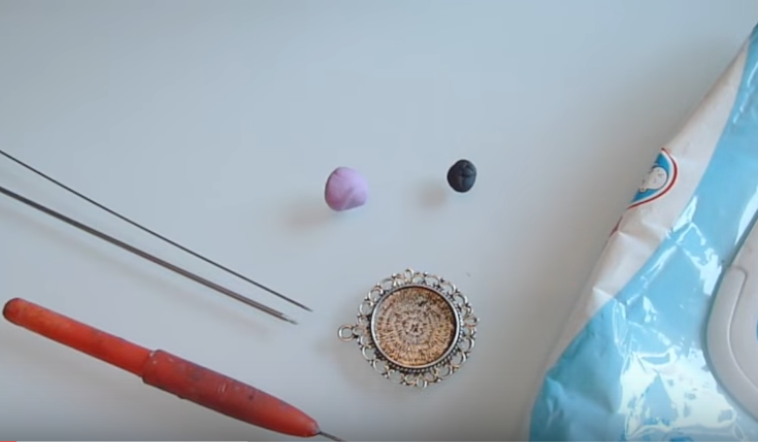 Above you can see the supplies that ManinpastaByBeba started with:  A cabochon frame, two balls of clay (there was a third ball of gray clay too), and three various sized "needles" with the tiniest tips.  You will see why ManinpastaByBeba uses the tiny needles as she gets going in the tutorial.
ManinpastaByBeba begins by rolling up the lavendar ball of clay and smoothing it into a smooth oval in the center of the pendant backing.  Then in the video you will see her roll up the tiniest balls of clay (you have ever seen!) with the other colors.  Then she applies each tiny "petal" very gingerly and gently into the clay and she creates the full design one petal at a time.
You can see by the first picture above how tiny each of these balls of clay are.  The second picture demonstrates the same.  You can see as ManinpastaByBeba picks up the "petal" how tiny it is at the end of the needle.  By the third time, you can see how lovely the petals look after they are arranged and layered around the main flower.  The filigree of the pendant backing matches the style of the pendant design perfectly.
You can see from the picture above left the finished design of the pendant ManinpastaByBeba demonstrated in the video tutorial.  The picture to the right shows the matching earrings that ManinpastaByBeba made to match the pendant.
You can create a full line of pendants and earrings using different colors and different petal designs.  It's not hard, but it does take a lot of creativity and patience.  These are one of the most beautiful polymer clay jewelry pendants I have ever seen.
If you want to visit ManinpastaByBeba's YouTube channel, you can click here.  To visit ManinpastaByBeba on her other social media platforms, the addresses are shown below: