DIY Polymer Clay Mermaid Art Doll by CertainlyCaroline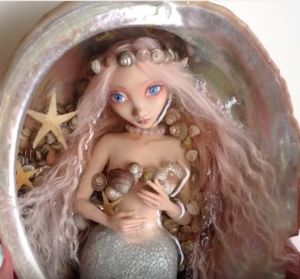 Below are links to CertainlyCaroline's Sculpting a Mermaid Tutorial on YouTube.  It is sculpted and explained in Part One and Part Two.  CertainlyCaroline goes into a lot of details and shares how she sculpts a head from scratch and also how she uses a push mold to make a face for those of you who are beginners or who like the easy of starting with a molded face.
Part 1:
Part 2:
Caroline has many unique sculpting techniques.  I especially liked how she detailed the eyes and she went into a lot of detail on how she sculpts the fingers and then attaches them once the mermaid body is done.
Caroline uses Genesis Paints and the doll's hair is made of Tibetan Lamb Hair, and she indicated it was "pink".  I especially like the way she did the top of the hair using glue and making a very convincing center part.
I though the eyes were glass eyes and were inserted during the sculpt, but to my amazement, and I am sure yours too, the eyes are fully sculpted from scratch.  Caroline has a master artist's touch as you will see when she shows you the details of how she sculpts and sands the intricate parts of the doll.  I would have broken the fingers off 5 minutes into it.  You can tell the pros when you see them.
CertainlyCaroline has done a separate video on painting the doll's face, and you can see it here:
How to Paint a Doll's Face:

Caroline has a store on Etsy and I see at least one mermaid is available for sale at this time.  Be sure to check back and see what she has to offer in the future.  Check out CertainlyCaroline's YouTube Channel here!
Thanks Caroline for sharing your sculpting videos with us!