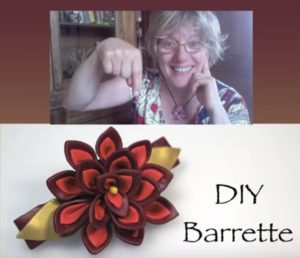 Once again, MoClay of YouTube Fame has another great Polymer Clay project; this time it's a beautiful floral Barrette.  You can see the finished barrette, as well as a picture of Mo, to the left.
MoClay is one of my favorite polymer clay artists and she has lots and lots of projects on YouTube for the polymer clay enthusiasts and polymer clay jewelry artists.
Her designs are always so unique and clever.
Mo begins with cutting little square out of thin sheets of pink and purple polymer clay.  Then she goes back and cuts each square into a triangular shape.  Then Very intricately, she layers one on top of the other, and then pinches them into a leaf shape.  She cuts off any excess, making them the perfect shape as shown in the final barrette.
She forms 17 or 18 petals using this same technique.  Then she also rolls up a golden yellow tiny ball of clay for the middle of the flower.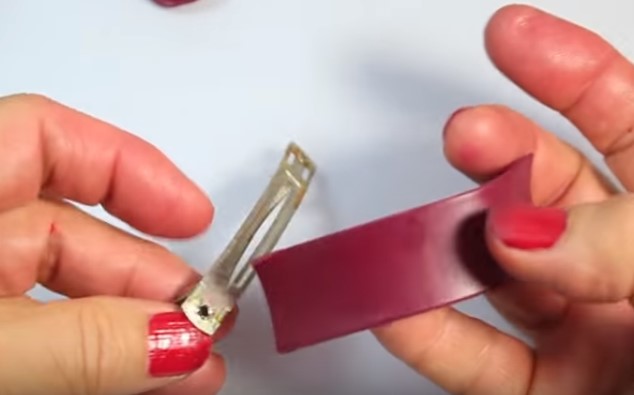 Using some of the unused purple sheet of clay, she cuts out a rectangle shape and covers the metallic base of the barrette blank.  These barrette blanks can be easily obtained at any craft store.  Because they are made of some kind of metal or aluminum, they are oven- safe.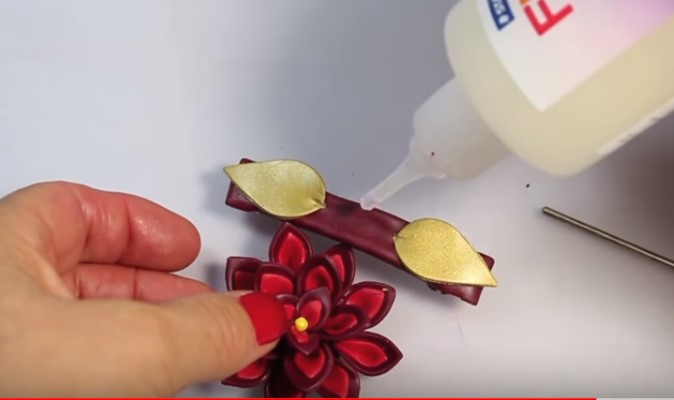 Next with another metal shape former, MoClay forms two golden yellow leaves that she applies to opposite sides of the barrette.  They are attached using a needle tool.  She then arranges all of the leaves side by side, layering the upper petals over the back petals until she forms the beautiful floral design in the pictures.  You can see in the picture above that she has that tiny golden yellow little ball of clay in the center of the flower.
On the base of the barrette, she is using a liquid sculpey or liquid fimo in order to glue the flower onto the base of the barrette so it is more firmly attached.
She bakes the polymer clay according to the manufacturer's directions and once it is dry, it is ready to use.
Another beautiful polymer clay project by MoClay!  If you are a polymer clay enthusiast, you probably already know about MoClay from YouTube, but if you are a newbie to the world of polymer clay jewelry making, you must go to MoClay's channel and look at all of her great projects.  She is by far one of my top 5 favorites on YouTube.
Be sure to subscribe to her channel so you don't miss out on any of the wonderful projects she puts up.  MoClay always has new techniques and original ideas to share with everyone.  You can see the entire video below: